ClipCube Media Bangkok Studios

Our studio is located in central Bangkok, 5 minutes from Rachadapisek MRT station exit 3, and easily accessible at Lardprao Road Soi 38. Situated in its own private compound,
away from prying eyes with beautiful quiet gardens to relax in between shoots or sound recording sessions. In addition, work areas for editing and a meeting room with large LCD screen can be reserved.
Limited Parking is available in the compound.
Video and Photography Studio
Studio size: 6 M wide x 6 M deep x 3.5 M high
Ceiling and Walls are white with polished wooden floor or carpet.
Sound proof - fully acoustically managed
No external light leakage
Light rail system with panographs (expansion rack).
Back adjustable wall mount for backlight
Viewing window for invited visitors to view the shoot outside the studio.
Backdrops on frame system: On request  white, pink, red, yellow, black, orange, purple, green,blue, grey, light blue, brown
Green screen - Custom made digital green screen made from high quality material. Durable, light absorbing, easy to stretch and fold, less wrinkles, and better chroma key result.
In studio bathroom and changing room with mirror
Suitable for not more than 10 participants on-set and 3-4 video subjects (people)
Onsite tea and coffee, and catering available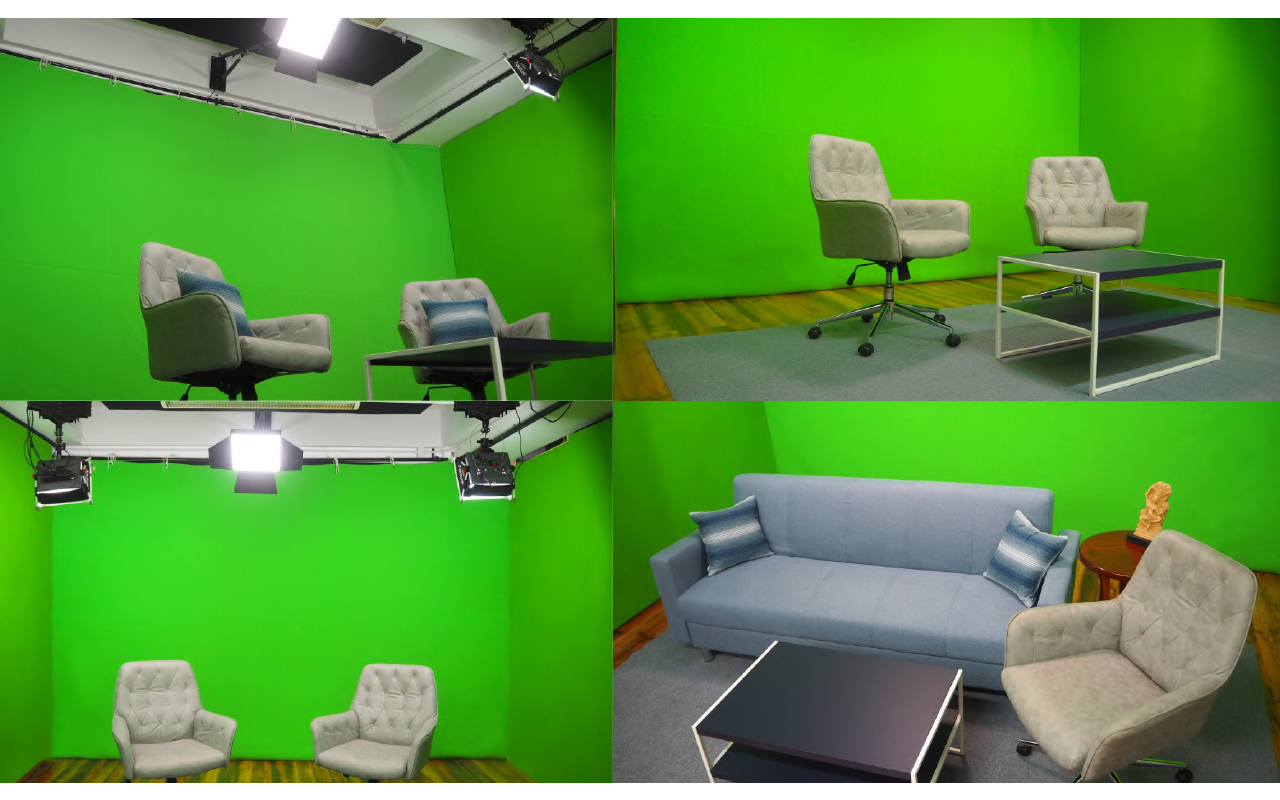 The studio can be rented as a dry hire, where you can bring your own equipment or you can rent our equipment.
Any equipment we do not have, we can source on your behalf.
WHAT IS THE STUDIO SUITABLE FOR?
Our studio is suitable for photography and shooting interviews, training videos, presentations, casting, testimonials, vlogs, Facebook live, and music videos.
VIDEO STUDIO TIMES
Standard Hours: 
9 AM - 12 PM or 1 PM - 5 PM -  Half Day - 4 hours  
9 AM - 5 PM (1 hour break for lunch)  Full Day - 8 hours
* Please note that times are strictly managed due to other customer bookings.
* Please allow 30 minutes for set up and 30 Minutes for break down
* For multiple day bookings, please contact us.
Overtime Rate:
Monday to Friday (from 6 AM - 9 AM or after 5 PM): Time and a half: 1.5x
Saturday - Sunday: Double time: 2x
VIDEO STUDIO PRICING
Studio excluding lights, but include light railing and light stands. See additional charges for use of equipment and green screen.
Half Day : 5,000 Baht excluding VAT (4 hours)
Full Day : 9,000 Baht excluding VAT (8 hours)
Aircon: 100 Baht per hour.
From 7 AM - 9 AM or After 5 PM (Double time). * Overtime is calculated after 15 minutes and charged at 1 hour.
VIDEO STUDIO BOOKING
Please complete the booking form here.
*Registered Agencies and Videographers/Photographers should contact the studio directly at 02 512 2959.
*Cancellation Policy